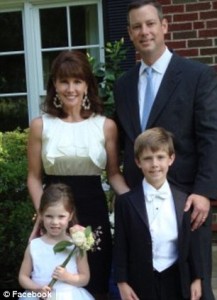 Police are searching for clues to understand why a mother killed her 11-year old son and 9 year old daughter before shooting herself.  All of this happened while her husband was downstairs reading a book.
The tragedy occurred in an affluent neighborhood in Glendale, Missouri on Monday.  Cathy Murphy's body, along with those of her two children, were found in the home after the shootings took place.  Police believe that the incident was a murder-suicide.
Murphy's husband didn't respond initially because he thought the shooting came from outside the home.  When he got up, he found the bodies and called police.
Neighbors say that the family appeared devoted to their children and were devout Catholics.  When police arrived, they saw the father performing CPR on his son.  His wife was dead at the scene and his children died on the way to the hospital.
A family friend says that the mother seemed distraught days before the murder-suicide took place.   Phillip Henderson said that he and his wife talked to the family a few days ago and something didn't seem quite right.
"She did say she recently talked to the mother and asked well how are things going, she said, 'Ugh, well you know'," said Henderson. "So maybe something's going on there she didn't know."
(Visited 123 times, 1 visits today)