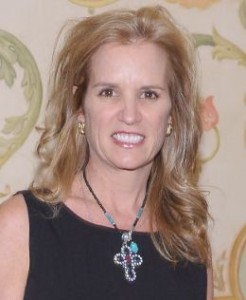 The daughter of the late Robert F. Kennedy was charged this week with hit-and-run in an accident that took place in the state of New York.  Kerry Kennedy, the ex-wife of New York governor Andrew Cuomo, was the subject of a police hunt that may land the wealthy woman in jail.
"911 calls reported a white vehicle operating in an erratic manner … that collided with a tractor-trailer," a state police press release said. "The vehicle sustained damage and a flat tire."
Kennedy, who is 52-years old, was found by police in her Lexus SUV.  Police say that there is evidence that her driving was affected by drugs.
"A subsequent investigation found Kennedy to be operating the motor vehicle while her ability was impaired by drugs," said a police representative.
Of course the Kennedy clan has closed ranks around their relative.  They deny that she was on drugs, and said that she is innocent.  Ken Sunshine, a spokesman for the family, says that Kennedy "voluntarily took breathalyzer, blood and urine tests — all of which showed no drugs or alcohol whatsoever in her system. The charges were filed before the test results were available."
Kerry is just the latest of many Kennedy family members to endure tragedy, either self-imposed or through bad luck.   Just this year, Mary Richardson Kennedy, ex-wife of Robert F. Kennedy Jr., was found dead from an apparent suicide.
(Visited 33 times, 1 visits today)