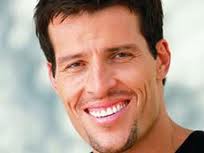 Tony Robbins is a great motivator.  He gets you excited and convinces you that you can do anything.  One of the ways he convinces you that you are invincible is by getting you to walk over hot coals.  The problem is that it doesn't always work out the way Robbins planned.
Nearly two dozen people were injured during Robbins' "Unleash the Power Within" seminar, where he had people walking on fire.  Capt. Reggie Williams said that many of the people who were there suffered second or third degree burns.   There were thousands of people walking over the coals, which consisted of 24 lanes that were eight feet long.
"It transformed people's lives in a single night," said Carolynn Graves, 50, a real estate agent from Toronto, who didn't get injured. "It's a metaphor for facing your fears and accomplishing your goals."
Graves and others believe that the people who burned their feet were "out of state," which means that they didn't have the right attitude at the time.
Tony's company, Robbins Research International, issued a statement in response to the allegations claiming that "more than 6,000 attendees participated in the traditional fire walk across hot coals. We have been safely providing this experience for more than three decades, and always under the supervision of medical personnel.
"A small number of our participants experienced pain or minor injuries and sought medical attention," the statement said. "We continue to work with local fire and emergency personnel to ensure this event is always done in the safest way possible."
Sgt. Jason Dwyer, the San Jose Police Department's public information officer, said that Robbins won't be charged in the incident.
"Those people were volunteers," he said. "There are no criminal implications."
A person from within the Robbins camp who saw what happened, said that people must have "slowed down and stopped because they didn't feel anything. Those are the folks who end up sometimes with hot spots."
"I won't say it never happens," the man said. "But I've never heard of anyone having third-degree burns. A couple of times people have had second-degree burns." Robbins also tells people to "to soak their feet in cold water for 20 minutes," he said.
(Visited 41 times, 1 visits today)