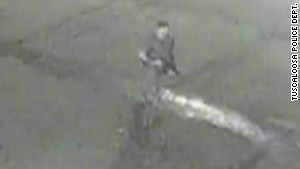 At a bar in Tuscaloosa, Alabama multiple people were shot. According to Police Chief Steve Anderson, these shooting took place early morning Tuesday and the suspect remains at large. The primary suspect is a white male between 5'7 and 5'9 of a stocky stature. According to the surveillance video, the man walked up to the bar, looked around outside for someone for a few minutes and then began shooting his assaut rifle.
Sgt. Brent Blankley of the Tuscaloosa police told CNN that 17 people were admitted to the hospital with related injuries. It was not confirmed how many of those people were shot and how many were injured by shrapnel. One of the people wounded in the shooting was reported as "extremely critical" while another three were listed in critical condition. The federal authorities are getting involved to enhance the surveillance footage. In the video, the man was wearing a baseball cap backward and carrying a gun through the parking lot.
The shooting took place around 12:30 a.m. at the Copper Top bar. Blankley said they had recovered 11 shell casings from the bar.
DCh hospital (where the victims were taken) was put on lockdown after the incident so they could handle the patients coming in. The hospital came off of lockdown around 7 a.m..
University of Alabama senior, Riley Dunn, who was injured in the shooting, claims that there were 80 to 90 people in the bar at the time of the shooting. When talking about the night Dunn says, "We were all just shooting pool and hanging out. It was kind of loud from the music, but we heard the gunshot, and no one really knew what to think. The first gunshot took place, then about 20 seconds later, that's when he really started firing them off. After that, everyone really scattered." Dunn was in the hospital due to a shrapnel-like wound to his leg.
Those who were not injured like Justin McDaniel, a friend of Riley Dunn, still left the bar traumatized. McDaniel's shirt had other's blood on it. Another source said that they never saw the shooter, just people trying to duck out of the way and glass flying everywhere.
Three of the injured people that night were students.
(Visited 27 times, 1 visits today)