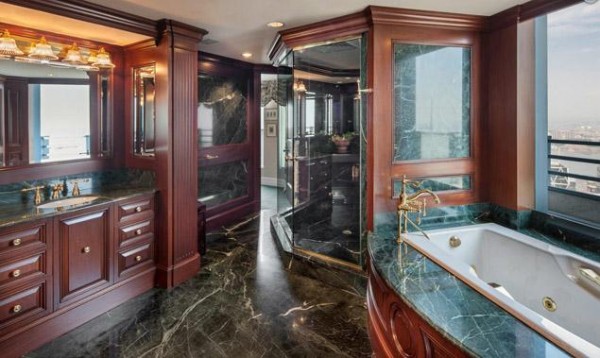 When you think about even the wealthiest celebs, most of them can't afford a $100 million dollar apartment.  But for those who can foot the bill, this place is an absolute masterpiece.
An 8,000 square foot monster of a residence has gone on sale in New York City a whopping $100 million dollars.  It is a triplex, wrap-around apartment on West 56th street.  Although Manhattan has some very expensive real estate, this place is amazing even by those standards.
Raphael De Niro, the son of actor Robert De Niro, has the home right now.  It is listed between the 73rd and 76th floors on top of CitySpire, a deluxe complex in New York City.
It was designed by Architect Juan Pablo Moyneux and includes marble floors, a three-story elevator, and a wrap-around terrace giving a 360-degree view of the city.  Some say that it's the highest outdoor space in all of New York City.
The dining room can seat up to 20 people and the wine room can hold up to 1,000 bottles.  There is also another apartment connected to this one for "the help."
(Visited 183 times, 1 visits today)