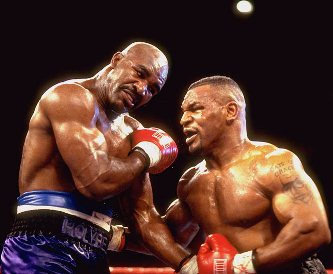 Some would say that Mike Tyson is a degenerate seeking attention, but that seems to be the fad when it comes to black men in the media.  If Flavor Flav can rebuild his career, then so can Iron Mike.  This week, in his latest form of entertainment, Tyson talks about the taste of Evander Holyfield's ear during the famous bite in the fight 15 years ago.
This is the first time Tyson has talked about the ear biting incident so openly, but that is exactly what he did with Andy Cohen during the "Plead the Fifth Segment" of the new show, "As It Happens."   In the segment, Tyson said that the ear didn't taste very good.  That led to Cohen coming in and saying that the ear probably needed something from Evander's hot sauce line.
"That would've been a delicacy," Tyson said.
Even Evander made a joke about the ear biting situation, saying on Twitter that this new hot sauce is so good that it "will make u wanna take a bite out of someone's ear! Ask @MikeTyson – Luv ya bro!"
(Visited 324 times, 1 visits today)