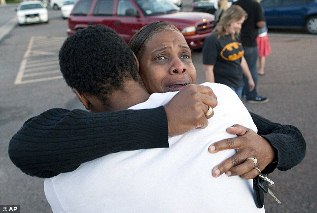 A three month old baby was shot point blank inside a movie theater in Aurora, Colorado during a screening of the latest Bat Man Film.  The showing of "The Dark Knight Rises" ended in chaos as a lone gunman came into the theater, threw a smoke bomb, and opened fire on the crowd.
James Holmes, a 24-year old man, is being charged with the killings.  He gave himself up to police without incident.  Shockingly, Holmes has no criminal record, other than a traffic ticket.  In addition to the people he killed, he also wounded 50 others.
Holmes came into the theater with a gas mask and bullet proof vest, busting through the emergency exit of the theater.  Some of the movie-goers thought that the incident was part of the film, until people started to be killed around them and dropping to the floor.
After opening fire, the man slowly made his way up the stairs, shooting people as he walked.  He was killing people at random.  One woman said that the man pointed the gun at her face and then shot two people behind her instead.
A woman said that she had shell casings falling on top of her head as she ducked to the ground.  She also said that her forehead was burning from the cases that kept falling onto her.  Then, the gunman stopped to reload his weapon.  The woman said she was crawling to the exit and saw a 14-year old girl lying lifeless on the ground.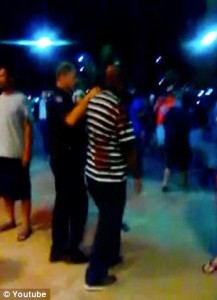 "As people ran this gunman, or gunmen, opened fire hitting people," one witness said. "Police sources have told us there are 10 bodies inside the cinema, most of them children or teenagers, and one baby."
"A baby was shot at point blank range, the family were gathered around screaming."
Even President Barack Obama and first lady Michelle Obama made a statement in response to the senseless tragedy.
"Michelle and I are shocked and saddened by the horrific and tragic shooting in Colorado. Federal and local law enforcement are still responding, and my Administration will do everything that we can to support the people of Aurora in this extraordinarily difficult time. We are committed to bringing whoever was responsible to justice, ensuring the safety of our people, and caring for those who have been wounded. As we do when confronted by moments of darkness and challenge, we must now come together as one American family. All of us must have the people of Aurora in our thoughts and prayers as they confront the loss of family, friends, and neighbors, and we must stand together with them in the challenging hours and days to come."
Colorado has some of the most relaxed gun laws in the country. It is the state where two students went into Columbine High School in 1998 and killed dozens of classmates with homemade bombs and assault weapons.
(Visited 63 times, 1 visits today)