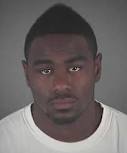 A man was arrested for breaking into his neighbors' home and pleasuring himself to adult content on their computers. 21-year-old Antone Forrest Deedward Owens of Eugene, Oregon had been changed with four counts of first degree burglary, as well as one count of menacing. He was also charged with one count of coercion after he had been found entering homes nearby and watching dirty movies while the owners were at work. This information was gathered after a four-month long investigation.
'The suspect accessed the victim's computer, went to a p*rn site and in all the incidents I've mentioned so far he was masturbating.'He gets more of an adrenalin rush from going into somebody else's house even though he hasn't created any violent act there.' said Sgt. Mitch Martin of the Eugene Police Department. The department began the investigation in March after  a string of break-ins were reported. Interestingly enough, the common thread in all of the break-ins was that all of the victims found adult content on their computers.
After discovering X-rated images on her computers, lubricant, a towel and a cell phone near to the computer,  a female neighbor then saw the man outside her sliding glass door. While she was trying to call 911 he stormed inside, threatened to kill her, took his possessions and fled. Owens was allegedly seen again by a male neighbor who found a similar scene after returning home early for lunch.
(Visited 30 times, 1 visits today)