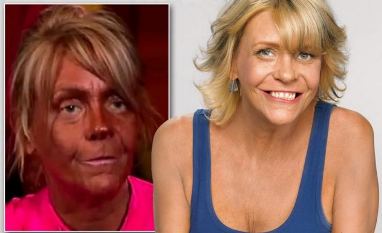 A mom who was once accused of taking her six year old daughter to the tanning salon with her has revealed a brand new look that makes her look….well….normal. Patricia Krentcil made international headlines with her images, showing a woman who might just be a bit mentally ill.  She was planning to pass this madness to her six year old daughter by taking her to the salon too.
Now, the mother of five is trying to show people that she might be normal after all.  We have no idea if people actually believe her or not.
"I feel weird and pale," she said, in response to her new look.
InTouch Magazine asked the woman to pass up one month of tanning bed visits so they could capture her new look.  She admits that she couldn't just stop entirely, but did shut it down quite a bit.
"I've had moments where I've felt like, 'I need to be tan.' And I did all the spray tans and lotions and creams, too – anything to get dark," she said.  "Once a doctor told me to stop tanning. But I didn't listen to him. I wanted to be dark.  I like looking like I just got back from vacation."
Maybe she needs to get another kind of doctor to help her understand why she's not happy with her skin complexion.  This is very, very strange.
(Visited 348 times, 1 visits today)