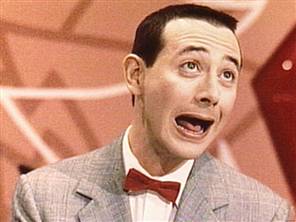 I bet you that one question you did not ask yourself this week was "how old is Pee-Wee Herman?"  You won't believe this one, but Pee-Wee is turning 60 this week.  The person who played Herman, Paul Reubens, was the big man in America during the 1980s, making a film and having a hit television show.  This was back in his 30s, believe it or not.
But father time and bad fate have a way of catching up with quite a few of us.   Reubens was arrested in an adult theatre for doing not-so-family-friendly things, which led to his career coming to a quick halt.
Just two years ago, Pee-Wee re-emerged on Broadway to do a show that was literally based on the show that he did in the 1980s.   Maybe those little kids are all grown up and wanted to see him again.
In the meantime, Reubens also appeared in a few films, like "Mystery Men" and "Blow," where his role will always be remembered as Johnny Depp's flamboyant gay friend and drug dealing partner.
"If anyone would have told me I'd be doing this 30 years later, I would have laughed. But now, I plan on doing it 30 years from now, when I'm 140," he said.
At least he's out of the closet in more ways than one and can live the rest of his years while being true to himself.  We still love you Pee-Wee.  Just stay the hell away from our kids.
(Visited 279 times, 1 visits today)