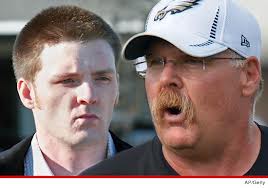 Garrett Reid, the son of Philadelphia Eagles coach Andy Reid, was found dead on Sunday morning.   General Manager Howie Roseman and Lehigh University Police Chief Edward Shupp spoke to reporters about the incident.
"I have some heartbreaking news to share with you all. It is with great sadness that I tell you that Garrett Reid, the oldest son of Coach Reid was found dead this morning in his room here in training camp. It's a tough morning for all of us in the Eagles family. Garrett grew up with this team, which makes this news even tougher to process," the owner said.
Garrett was found to be unresponsive and attempts to revive him were unsuccessful.  Northampton County Coroner Zachary Lysek pronounced Reid dead at the scene and is conducting an investigation into the incident.  The police on the Lehigh University campus are requesting the investigation.
Garrett was at the camp working with the team's strength and conditioning staff.  He was arrested in 2007 and sent to prison for destroying another driver's car while he was high on heroin.  His brother Britt also had a drug problem, being arrested for drugs on the very same day.
"He's had a tough struggle," Reid's friend, Joe Banner told USA TODAY Sports. "He seemed to be in a good place, which makes it all the more shocking. He had been around the team. If you talk to the players, they liked him and enjoyed him and he was doing a great job in the strength and conditioning work.  He seemed like he got his life back together and was doing something he was really enjoying and was doing it really well. And everybody was supporting him. And you get this kind of shocking news."
There is no word on whether Reid's death was drug-related.
(Visited 6 times, 1 visits today)