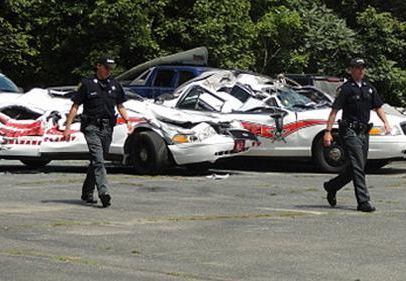 Orleans County Sheriff's Department is baffled by an incident that's going to cost the department a quarter of a million dollars.  A farmer in Vermont was livid about being arrested, so he took out his displeasure by leveling a group of police cruisers with his tractor.
Roger Pion is being held in the Northern State Correctional Facility facing 11 charges after he destroyed half of the police cars in his county.
"It's more than half our fleet. We have 11 cars," Chief Deputy Sheriff Phil Brooks told the Burlington Free Press.
The cost of each vehicle is about $40,000, when fully-equipped. But these tiny cars were no match for Pion's tractor.
"It was a massive tractor. It has four 6-foot tandem wheels on the back. It was red. It must be at least a 15-ton tractor," Newport Express Publisher Ken Wells said, describing the incident.
This wasn't Pion's tractor.  It was actually owned by his parents.  When your 34-year old son borrows the family tractor and lays out half a fleet of police cars, you have some serious family issues.
Pion is being hit with seven counts of felony unlawful mischief and one count of unlawful mischief on suspicion of damaging the cars.  They should probably keep him from getting onto anymore tractors.
(Visited 33 times, 1 visits today)