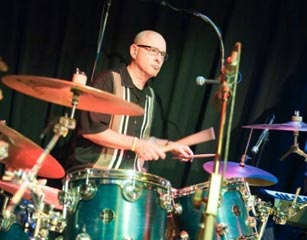 You hate hearing stories like this, where someone dies suddenly. At least this guy died doing the thing that he loved.  This is a reminder to check your heart and make sure you stay healthy.  It is also a reminder to rock on and be sure to enjoy your days while you have them in front of you.  Read more:
The drummer of an American disco group suffered a heart attack and died mid-show during a performance in Brazil over the weekend
Brad Parker was performing with his band Generation Esmeralda in Uba, some four hours north of Rio, on Saturday night when he suddenly slumped over his kit and then tumbled off his stool.
Video cameras caught the horrifying moment, as the 59-year-old's bandmates initially kept playing, apparently unaware that Parker was in trouble.
Roadies and medics eventually rushed the stage and Parker was taken to a hospital, where he died on Sunday, a producer for the group told local media.
"Doctors performed all the emergency procedures but unfortunately there was no solution," Sergio Lopes said, according to Agence-France Presse.
Read more: http://www.nydailynews.com/news/world/disco-drummer-brad-parker-suffers-fatal-heart-attack-stage-concert-brazil-article-1.1168528#ixzz27gNg5jxE
(Visited 51 times, 1 visits today)