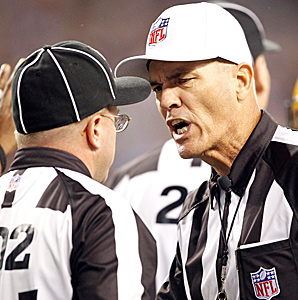 Thank God its over.  After one of the biggest embarrassments to the NFL in years, the lockout of the referees has come to an end.  We're sure that the league was ready to put all this behind them after one of their replacement refs, a poor guy who was ruled not good enough for Division I college football, made one of the worst calls of all-time.
The labor deal is set to begin right away, much to the relief of fans, players and owners alike.
"Never thought I would be excited for the refs to come back to work but it's about time," Cleveland Browns receiver Josh Cribbs tweeted. "It was definitely necessary!"
The deal is for eight years, the longest in the history of the league.  Union refs get pay raises and pensions that are the best they've ever had.
Members of the union still have to ratify the contract, but the league has gladly lifted the lockout to let the refs go to work.
Says official Mason "Red" Cashion:
"These guys have been working every week, really since May, to get ready for the season, through conference calls, through video, through meetings of their own," Cashion said. "And that's something that the officials have done simply because they have enough pride in what they do that they wanted to be ready. And they are ready."
(Visited 71 times, 1 visits today)