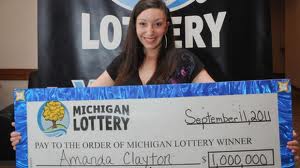 It's not clear how you can win a million dollars in the lottery, yet still collect $200 per month in food stamps.  But that's what a woman did, which led to an uproar in her home state of Michigan.  Sadly enough, the woman was just found dead in her home.  ABC News tells the story:
A woman who admitted to receiving food stamps after winning $1 million on a Michigan state lotto game show was found dead today.
The circumstances surrounding Amanda Clayton's death were not immediately released by police, but ABC News' Detroit affiliate WXYZ-TVreported that sources within the police department said they suspect the woman died of an overdose.
An autopsy is pending on Clayton's body, which was found at a home in Ecorse, Mich., police said.
Clayton, who became a millionaire after her big win last September, caused outrage earlier this year when it was revealed she was continuing to get $200 in monthly food aid from the state.
(Visited 30 times, 1 visits today)