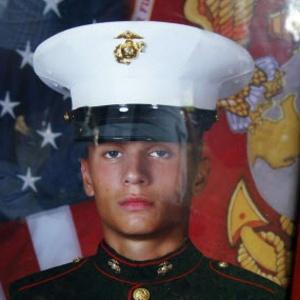 A soldier told his father that he had reason to believe that he was going to be killed by someone in his own unit.  Shortly thereafter, he was dead.
Greg Buckley Jr. was stationed in southern Afghanistan when the killing took place.  He was one of the soldiers training security forces that would take over after the NATO withdrawal in 2014.  The young man told his father that he'd had a run-in with an Afghan trainee while he was on duty.   This was the first time that he told his parents that he felt something was wrong and that it might lead to his demise.
"The guy turned around and said to Greg, 'We don't want you here. We don't need you here,'" his dad said.
"Greg turned around again and said, 'Why would you said that?'" according to his father, Greg Buckley Sr.
The man repeated the words to Buckley all through the night.
"Greg said, 'I thought I was going to lose my mind,'" his father said. "Pitch black out, and all he kept saying over and over again is, 'We don't want you. We don't need you. We don't want you.'"
"It was just tormenting for him."
After Buckley grew tired of the taunting, the two men had a yelling match.
"One of his superiors came over and had Greg apologize to the guy," said the elder Buckley.
The son said he reached out to shake the man's hand, but the man refused.  A month later, Greg told his father that if he stays for another month, he's not coming home.  He also told his father to prepare his mother and brothers for his death.
"I don't understand," his father said. "Out in the field?'
"No, in our base," Greg said.
Greg was killed on August 10th of this year, just two days before he was set to leave Afghanistan.
CNN and other media are attempting to investigate the situation, but it appears that it may have been an inside job.
(Visited 99 times, 1 visits today)