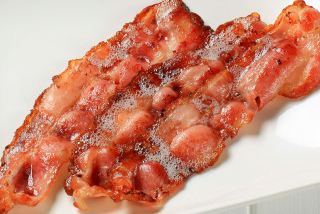 It appears that those Christmas pigs might have to be replaced with turkeys or tofu.  Experts are predicting that the world is going to see a shortage in bacon production next year, which could set the breakfast world on fire.  Not that the stuff was all that healthy to begin with, but we thought you might want to know:
With pork costs rising, Great Britain is facing a bacon and sausage shortage as pig farmers cut back on herd size. But the problem may soon become global.
In a recent press release, the U.K.'s National Pig Association is warning that a "world shortage of pork and bacon next year is now unavoidable":
New data shows the European Union pig herd is declining at a significant rate, and this is a trend that is being mirrored around the world. Pig farmers have been plunged into loss by high pig-feed costs, caused by the global failure of maize and soya harvests. All main European pig-producing countries report shrinking sow herds.
Financial Times reports that this past season's droughts in North America and Russiaare to blame for the spike in prices for grain crops, which are used to feed animals.
As of August, nearly half of all counties in the U.S. were considered disaster areas due to extreme dryness and heat.

(Visited 29 times, 1 visits today)