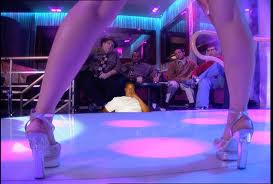 The owners of a strip club thought that a great way to attract new talent would be to offer to pay tuition as an added benefit for working at the club.
The Windsor, Ontario club is experiencing shortages in dancers due to a change in the immigration laws so the idea was to draw more girls by offering them tuition money.
Students who work at Leopard's Lounge can be given up to $1,700 to pay for tuition at area colleges or at the local university.
The club even imposes a standard of performance (in school) for the dancers, requiring them to have a B-plus average in order to work at the club and get the tuition money.
Talking to the Toronto Sun, the owner of the club, Robert Katzman said,
"The girls can take any class they want to help better themselves. We have girls studying business, finance, to become nursing assistants and one taking chiropractory."
General manager, Barry Maroon, expressed that they were trying to get new girls quickly as the school year had just begun.
Talking to the Windsor Star newspaper, Maroon said,
"We've already had two girls call from Toronto who were very much interested."
Up until the laws changed, Maroon and Katzman employed foreign women to dance at their club but when the laws changed, they could no longer hire them.
Maroon said that his club was not really doing anything new as many women had paid for college by stripping, citing examples of women who had become nurses and even one who opened a florist shop after college.
Sheila Hageman, a former stripper, thinks the idea of paying for dancers' tuition is a good thing, saying,
"I don't know how many women actually strip to pay for school," she admitted to The Huffington Post. "I remember maybe one woman studying in the bathroom. However, a strip club offering to pay tuition is a clever idea. Strippers have flexible hours, so it could totally work."
Haeman, who is also an author and Huffington Post blogger says that the number of women who strip to pay for school may be exaggerated.
She goes on to say,
"If you want to be a writer, stripping provides great life experience and it's good for sociology because you can study interesting groups of people. On the other hand, taking business classes would probably help dancers learn marketing and sales skills."
Hageman also thinks that women who strip may also earn more because by stripping to pay for school, they show that they are trying to better their lives any way that they can.
(Visited 106 times, 1 visits today)