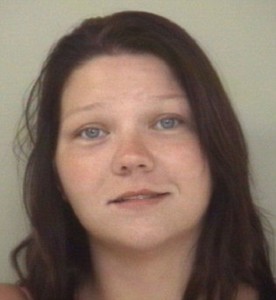 A North Carolina woman is accused of trying to poison both of her lovers in her love triangle.
22 year old Tara Jackson allegedly put anti-freeze in one lover's drink and a muscle relaxant in the other lover's food.
Jackson's love triangle involved her and her neighbor, Donald Russell, who lived in the house next-door as well as Jason Whitener who she has been living with and neither of the men knew about the other's involvement with Jackson.
According to the police, they started an investigation with Jackson as a person of interest when her boyfriend, Jason Whitener, that she lived with, was hospitalized after suffering from anti-freeze poisoning. The anti-freeze caused Whitener to spend three weeks in the hospital on life support because his organs had shut down.
According to the doctors who treated Whitener, he may never fully recover from the poisoning.
Jackson has denied that she is responsible for poisoning the two men while Whitener has said that even though she poisoned him, he still loves her.
Jackson was placed under arrest at her home and charged with two counts of distributing a poisonous substance in food. Her bail has been set at $25, 000 and she will appear in court on Tuesday.
(Visited 103 times, 1 visits today)