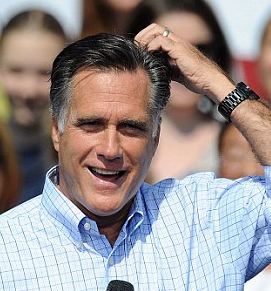 Mitt Romney, seeking to let his hair down for the American public, recently appeared with Kelly Ripa to tell her that he likes to sleep naked.  He also says that he's a fan of Snooki and likes peanut butter sandwiches.
Romney is a Mormon, meaning that he's not allowed to drink alcohol, coffee, tea or consume cigarettes.  Maybe the peanut butter sandwiches are his way of rebelling.
"Look how tiny she's gotten. She's lost weight. She's energetic. Just her spark-plug personality is kind of fun," Romney said about Snooki.
The interview airs this Tuesday, and will give you a chance to learn more about the guy that you probably never wanted to learn very much about in the first place.
"The best part of the campaign is all the people you meet day in and day out and their energy. At the and of the day, I have a hard time falling asleep just because of all the people I've met and all the enthusiasm they pass along," said Romney.
He also said that if someone played him in a movie, he'd like for it to be Gene Hackman.
(Visited 112 times, 1 visits today)