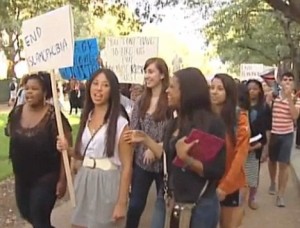 On Monday, four African American University of Texas at Austin students went to file complaints with the university police because they believed they were subjected to racial attacks. The four students say they were hit with balloons that contained bleach.
The racially charged attacks were not only directed at Black students but Asian students were also attacked with the bleach filled balloons.
As word got around the campus, students, faculty and alumni started a protest. On Tuesday, they gathered around the statue of Martin Luther King Jr to stand up to the racists and march against intolerance.
Cindy Posey, the university spokesperson spoke to ABC News about the attacks. According to her, the attacks happened between June and September near some off campus apartments.
One of the Black students, Jaysen Runnels, who was subjected to the attacks said,
"It's very frustrating to know that it's 2012 and that stuff like this still happens…A bleach bomb fell and hit me, my roommate. Well, almost hit us. It barely missed us."
Runnels said he had been targeted more than once by the bleach filled balloons which were thrown down at him from the top of high-rise buildings.
Some reports say that on some 'bleach bombings', a racial epitaph was yelled at the targeted students. Police are still investigating if the balloons are indeed filled with bleach and they have not confirmed that the attacks are racially motivated.
On Tuesday a group of protesters marched to the area in which the attacks happened.
(Visited 16 times, 1 visits today)