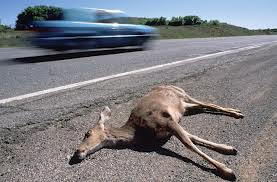 The health department shut down a Chinese restaurant in Williamsburg, Kentucky after being alerted that employees were seen carrying a dead dear into their kitchen.
Katie Hopkins, a customer of the Red Flower restaurant describes seeing the workers at the restaurant rushing into the kitchen looking suspicious. Said Hopkins,
"We were actually joking about the, you know, the whole Chinese restaurant. You know some rumors that you hear…Two of the workers came in wheeling a garbage can and they had a box sitting on top of it. And hanging out of the garbage can, they were trying to be real quick with it. So that nobody could see it. But there was like a tail, and a foot and leg. Sticking out of the garbage can and they wheeled it straight back into the kitchen."
Right away, Hopkins alerted the health department about what she witnessed, saying
"Many people eat there. A lot of locals eat there on lunch breaks and stuff. It was very disturbing. There was actually a blood trail that they were mopping up behind the garbage can."
The environmental health inspector in Whitley County,  Paul Lawson, confirmed that the animal in the kitchen at the restaurant was indeed road kill.
According to Lawson, the owner of the restaurant's son confessed that he had picked up the dead dear near I-75 north in Williamsburg. The health department immediately shut the restaurant down.
Said Lawson,
"They said they didn't know that they weren't allowed to. So that makes me concerned. But maybe thy could have before. They didn't admit to doing it before."
The restaurant may reopen after passing  a second health inspection and have washed, rinsed, and sanitized the restaurant to remove any contamination from the roadkill.
(Visited 86 times, 1 visits today)