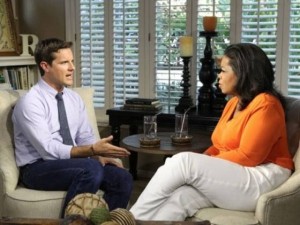 Oprah Winfrey has scored another interview that is sure to drive ratings.
Winfrey scored the first interview with the creator of the Kony 2012 campaign, Jason Russell, since he went "nuts". After Russell's Kony 2012 video campaign went viral and drew tremendous attention to Ugandan rebel leader Joseph Kony, in March, another video came out and this time it focused on Russell.
In the video, Russell was seen on the streets, in San Diego, shouting, running through traffic and throwing himself on the ground. Russell was even seen punching the pavements repeatedly. He was later admitted in a hospital for what his wife described as "reactive psychosis."
Russell and his wife will appear on Oprah's Next Chapter which comes on on Sunday on Oprah's OWN channel. The couple will discuss Russell's melt down for the first time since it happened and they will also share how his life and career were affected.
Below is a peek at the conversation:
OPRAH: "What do you remember, Jason?"

JASON: "I remember me flipping off cars."

OPRAH: "Flipping off cars? Like with your…"

JASON: "With both hands. I remember that just like 'doot,' just like a little memory. I remember running around our lemon tree. I remember …"

OPRAH: "There were reports that you were breaking into cars?"

JASON: "There are reports. I mean I think I was stopping cars in the street. People said I was laying in the street – it's a busy street – I was laying in the street."

OPRAH: "How did you get your robe off? How do you go from running out with your robe on to your robe off?"

JASON: "Again, it's really hard to explain if people who have never had an out-of-body experience, but it really wasn't me. That wasn't me, that person on the street corner ranting and raving and naked is not me, that's not who I am."
Russell also explains to Oprah that he was "walking around snapping my fingers up and down" and "slapping my hands on the ground as hard as I can" and even shows her his dented ring from pounding the pavement.
(Visited 51 times, 1 visits today)