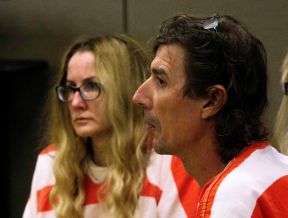 A teenager had been locked in a room and malnourished for years by his mother and stepfather.  Police were so shocked to see the boy that they thought he was pre-teen, not 18 years old.
"I thought he was a 12-year-old boy," said Detective Kevin Morgan with the Paulding County Sheriff's Office.
The boy was just 5-feet, 1 inch and 87 pounds, according to police.  He was found in downtown Los Angeles and he hadn't been in the sun for two years.  The boy's mother and stepfather were both arrested and charged with cruelty to children and false imprisonment.
Mitch Comer's stepfather, Paul Comer, along with his mother Sheila, may get long prison sentences over the incident.  The boy said that he was locked into his bedroom and a bathroom and was barely fed.  He would get soup or cereal every now and then, that's it.  His 11 and 13 year old sisters would hear him cry for food on a regular basis.
"They both conceded that that was his life," Morgan said.
The boy was discovered by a retired police sergeant who noticed the boy.  He said that the boy looked a lot younger than the 18-years he claimed.   The boy told the officer that his father gave him $200 and a list of bus stations and sent him away on his 18th birthday.  He said that he wanted to be an actor.
His parents "made Mitch kneel on the floor, bend his head and place his forehead against the wall, and place his hands behind his head for long periods of time," according to a complaint filed in Georgia.
We hope he gets better.
(Visited 65 times, 1 visits today)