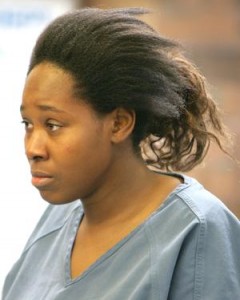 A pregnant woman from Ohio was arrested on Friday because she allegedly stole a tow truck. The tow truck was attached to her SUV which was being repossessed.
According to the Massillon Independent, 21 year old Sophia Davidson repeatedly demanded that the tow truck driver, Ed Meadows, stop hooking her car up to the tow truck and he continued anyway. Meadows claims that she even started pulling at him to try and stop him from getting her car hooked up to the tow truck.
The police report that when Davidson realized that her demands were being ignored, she jumped into the tow truck and drove off with her SUV attached to it. A police chase reportedly ensued and by the time that it ended, the tires on Davidson's SUV had been ground off and she had crashed into a vacant house.
Even after the crash, the pregnant 21 year old refused to get out of the truck and police had to break into the truck and wrestle her out. She is now facing a number of felonies, including theft.
On Monday, Sophia Davidson appeared in court and it was revealed that her pregnancy is eight months along. The judge set bond at $25,000 and scolded her saying,
"You could endanger your child with that kind of behavior. That's why I want that medical information."
If she is released on bond, Davidson will not be allowed to drive. She is facing several charges, including two counts of grand theft of a motor vehicle but she has not been charged with child endangering.  She is facing up to five years in prison if she is convicted.
(Visited 44 times, 1 visits today)