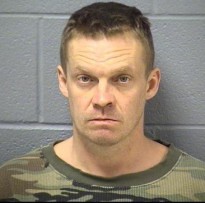 Some people just need to stay in prison and this guy might be one of them.  Just one day after getting out of prison, a man murdered his 90-year old grandmother.  Police aren't saying why he did it, but he does have a history of substance abuse.  It's always drugs that leads to this kind of thing, so please just say no.
A Joliet man who police say beat and strangled his 90-year-old grandmother just one day after being released from prison has been charged with first-degree murder.
Darel C. Agerton, 38, was taken into custody Wednesday afternoon for the Nov. 30 death of Veronica R. Schick, whose unconscious body was found on the floor of her 109 Jessie St. home, according to the Will County Sheriff's Office. Agerton listed Schick's address as his residence.
Agerton, who was released from the Illinois Department of Corrections on Nov. 29 after serving 15 months for his fourth DUI conviction, told emergency responders that he awoke from a nap to find his grandmother unresponsive and laying on the floor, a sheriff's office release said.
(Visited 272 times, 1 visits today)