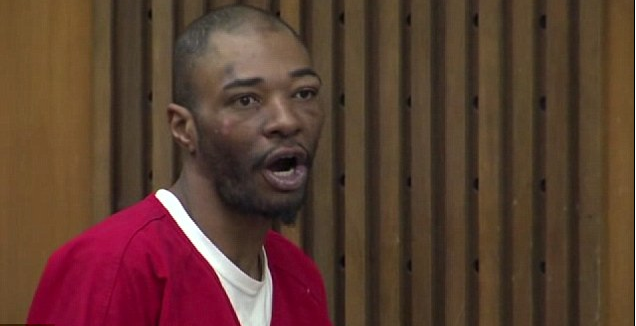 A man who brutally assaulted and murdered his girlfriend lived with her months before police found the body.
It was only when Devon Epps, from California, was evicted from his Stockton apartment a year ago that the land lord found the decomposing body of Veronica Jones, 35, in the bathroom.
Jones, a mother-of-ten, was bludgeoned in the head with a metal table pedestal, assaulted with a foreign object, and stabbed 32 times. Her body was stashed in the bathtub.
According to authorities, her face had been beaten beyond recognition.
Management at his building said Epps suffered from mental problems and he was kicked out for incidents relating to his illness.
Jurors were shown graphic crime scene photos on Friday of Jones' ravaged and rotted corpse, which was the first day of the trial.
Although a missing person's report was filed at the end of June 2011, officers did not go to the apartment for another month. And even when they did, they didn't physically enter the apartment.
Jones' brother, Isaac Zuniga, who testified in court, said: It's disgusting. I can't believe my sister went through that.
'I believe the law is supposed to protect victims and I don't think my sister was being protected.
'The only thing they told me is that it's not a crime to be missing, that they have a right not to talk to family or friends, and she was basically not missing.'
(Visited 105 times, 1 visits today)