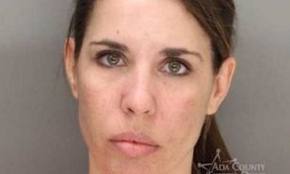 Not everyone is born with a maternal instinct in fact, some of us end up with something worse. A mother from Kuna, Idaho was accused of having sex with four different underage boys. The mother met the young boys through her 10-year-old son. Now the 35-year-old is facing some serious allegations, as well as some serious jail time.
The accusations even go so far as to say that Courtney Sue Reschke provided the teens with alcohol before having sex with them. These lewd acts allegedly took place in her home. The police reported that Reschke was engaging in sex with a minor when her five-year-old son tried to enter the room.  Reschke continued to ignore her son so she could have sex with the minor.
She has been charged with two felony counts of injury to a child and felony lewd conduct with a child under 16. The investigation continues and Reschke could be facing more charges. The prosecutors tried to set the bail at $750,000, but the judge disagreed and denied their request. Failing to make bail (posted at $250,000) Reschke remains in jail. The judge told Reschke that she is not allowed to have contact with any children under the age of 18. She is not even allowed to have contact with her own children. The judge told her to make arrangements for her sons.
Reschke's lawyer requested that she be let go on bail without bond which was denied by the judge. Reschke fears that she will lose her job and means of support if she is kept in jail… but she has bigger things to worry about than unemployment right now.
(Visited 1,811 times, 1 visits today)