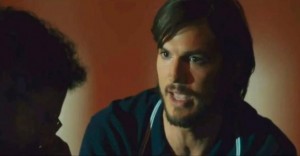 Who knew Ashton Kutcher was a method actor?
In order to get ready for his role playing Apple co-founder Steve Jobs, who died of pancreatic cancer in 2011, Kutcher adhered to the same fruit only diet that Jobs supposedly followed.
RELATED: LOST SPEECH REVEALS STEVE JOBS HAD IDEA FOR IPAD IN 1983
But while preparing to film scenes for 'Jobs,' which premiered at Sundance Friday, the strict fruitarian regimen landed Kutcher in the hospital with serious pancreas problems.
"The fruitarian diet can lead to like severe issues," Kutcher told USA Today.
(Visited 19 times, 1 visits today)