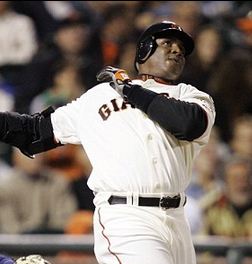 Steroid-tainted stars Barry Bonds, Roger Clemens and Sammy Sosa were denied entry to baseball's Hall of Fame, with voters failing to elect any candidates for only the second time in four decades.
Bonds received just 36.2 per cent of the vote, Clemens 37.6 and Sosa 12.5 in totals announced Wednesday by the Hall and the Baseball Writers' Association of America.

They were appearing on the ballot for the first time and have up to 14 more years to make it to Cooperstown.
Craig Biggio, 20th on the career list with 3,060 hits, topped the 37 candidates with 68.2 per cent of the 569 ballots, 39 shy of the 75 per cent needed.
Among other first-year eligibles, Mike Piazza received 57.8 per cent and Curt Schilling 38.8.
Jack Morris led holdovers with 67.7 per cent. He will make his final ballot appearance next year, when fellow pitchers Greg Maddux and Tom Glavine along with slugger Frank Thomas are eligible for the first time.
 It was the eighth time the BBWAA failed to elect any players. There were four fewer votes than last year and five members submitted blank ballots.
Read more: http://www.dailymail.co.uk/news/article-2259829/Baseball-Hall-Fame-Top-steroid-era-players-rejected-ballot-NO-ONE-elected.html#ixzz2HXbFKeih
(Visited 14 times, 1 visits today)