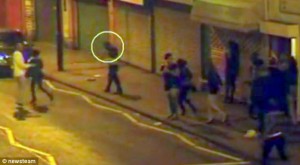 This is the chilling moment a gunman was caught on CCTV calmly tucking a pistol into his waistband – seconds after he shot a dad-of-three to death on a packed nightclub dancefloor.
Vincent Ashman, 38, shot Danny McCalla, 50, six times in the head, chest, shoulder, arm and thigh at the Tropical Harmony club in Bilston, West Midlands, in the early hours of November 21, 2009.
Two days after the murder, Ashman – who was known as 'Chopper' – boarded a flight to Jamaica, where he remained in hiding until he was extradited back to the UK in July last year.
(Visited 70 times, 1 visits today)