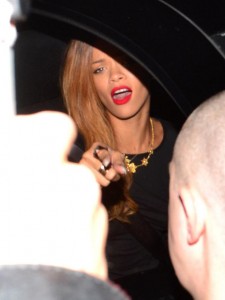 Is Rihanna making peace with a fellow rude girl?
The Barbadian beauty, 24, was spotted exiting Playhouse nightclub with a bevy of friends on Thursday night.
PHOTOS: RIHANNA'S NAUGHTIEST MOMENTS
It was the same time at the same club that Karrueche Tran, the model ex-girlfriend of Rihanna's on-again off-again flame Chris Brown, was throwing a party to celebrate her cover of 'Rolling Out' magazine.
Rihanna's appearance was likely no accident. Brown was also in attendance, but stayed in the background in order to give Tran the spotlight.
(Visited 25 times, 1 visits today)