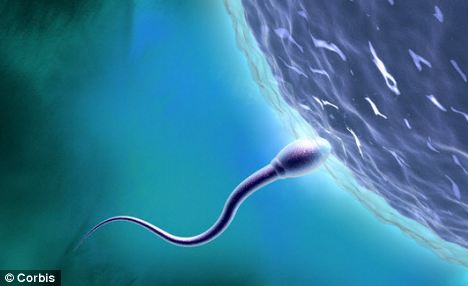 Sperm counts are falling at an alarming rate – up to 38 per cent in a decade – with diet and lifestyle largely to blame.
A Spanish study has found that even in young men, sperm concentration fell by an average of two per cent a year – and could soon hit levels where fertility is compromised.

A ten year-study of more than 200 men found the average concentration went from 72 million spermatozoids per millilitre in 2001 to 52 million/ml in 2011.
The Spanish study found that even in young men, sperm concentration fell by an average of 2 per cent a year
The researchers, from the University of Murcia. say the findings are important because previous research has shown that a concentration lower than 40 million/ml makes conception more difficult. 
'If the rate of loss we have outlines continues, with an average decline in quality of two per cent per year, the sperm of young men could reach this danger level of 40 million/ml in a very short space of time,' said co-researcher Professor Jaime Mendiola.
 In the study, researchers at the University of Murcia compared the results of 273 men aged between 18 and 23 years from the nearby town of Almeria, collected between 2001 and 2002.
They compared these with samples collected ten years later by 215 undergraduates from Murcia, all the while ensuring that both 
sample groups had the same age range and similar characteristics.
The researchers found that men living in Murcia had a significantly lower sperm count compared to those living in Almeria.
Read more: http://www.dailymail.co.uk/health/article-2265792/Mens-sperm-quality-declined-38-decade–poor-diet-lifestyle-blame.html#ixzz2IcrQdAGs
Follow us: @MailOnline on Twitter | DailyMail on Facebook
(Visited 43 times, 1 visits today)