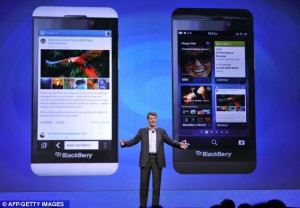 Twitter users led the complaints, with comments ranging from 'ripoff' to 'carbon copy', while other said the handsets bore a 'striking resemblance' to each other.
Launching the two handsets in New York, Mr Heins said: 'It's been one year since I was handed the reins, and it has been challenging, but exhilarating,' said Mr Heins.
'Now, finally, here we are – Blackberry 10 is here'
But the shares fell 5 per cent as the Canadian announced it was changing its name to BlackBerry from Research In Motion, and by the conclusion of the launch the shares were down 7 per cent.
But the firm insisted it could turn around its struggling fortunes – even revealing that it had signed up musician Alicia Keys as its 'global creative director'.
'Alicia Keys has come to BlackBerry because she believes in the product and technology, and subscribes to our overriding philosophy to 'Keep Moving': to empower people through mobile computing and communications,' said Mr Heins.
(Visited 29 times, 1 visits today)