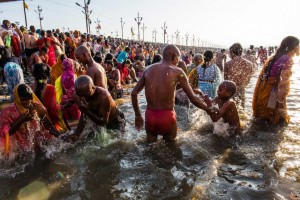 At least 36 people have been killed in a railway station stampede during the world's largest religious festival, India's Kumbh Mela.
An estimated 30 million Hindu pilgrims are bathing at the Sangam, the place near Allahabad where three rivers – the Ganges, the Yamuna and the mythical Saraswati – come together.
The stampede was triggered after an overcrowded railway station footbridge buckled and a railing collapsed, sending some people slipping down the stairs, a top state government official told Reuters, not wishing to be quoted by name.
The chief medical officer of Allahabad district said the toll rose to 36 after 14 more people died during treatment, Press Trust of India and NDTV news channel said.
Ash-smeared naked sadhu holy men led the ritual bathing before dawn, which is said to cleanse pilgrims of their sins, with millions following them into the swirling river waters at the festival site in Allahabad.
The population of the city swelled from 1.2 million to about 40 million on Sunday morning, with about 20 million packed inside the vast sealed off bathing area on the banks of the river.
Amid the crush police and thousands of volunteers on duty urged pilgrims to take one short dip and then leave the freezing waters to make space for the flow of humanity behind them.
In the two months from the start of the festival in January, officials believe as many as 100 million people will have passed through a temporary city that covers an area larger than Athens on a wide sandy river bank.
Hindu holy men and pilgrims bathe in the sacred Ganges to wash away lifetimes of sins.
Sunday was believed to be the most auspicious day of the festival.
(Visited 50 times, 1 visits today)