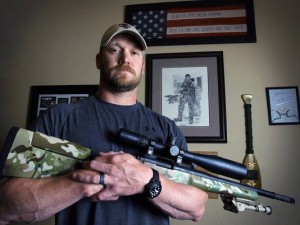 American Sniper author Chris Kyle, who was killed Saturday along with another man at a Texas gun range, was "an incredible guy who was always about family, about country and about God," his co-author said Sunday.
"During his life, he struggled to get those into the proper order," said Jim DeFelice, 56, of Warwick, N.Y., one of the co-authors of Kyle's best-selling book, American Sniper: The Autobiography of the Most Lethal Sniper in U.S. Military History, which details Kyle's kills of 150-plus insurgents from 1999 to 2009.
"It was always God first, but he struggled sometimes with how to balance his responsibility to his country with his responsibility to his family," DeFelice said.
Kyle, 38, and Chad Littlefield, 35, were shot and killed at the Rough Creek Lodge, west of Glen Rose, Texas, about 50 miles southwest of Fort Worth, according to the Texas Department of Public Safety.
(Visited 31 times, 1 visits today)