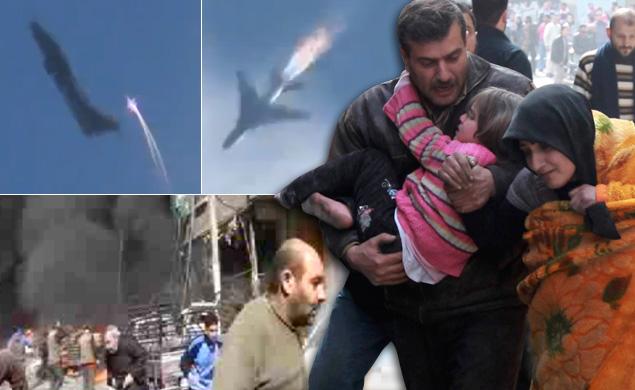 Amateur videos posted online purportedly show a Syrian warplane shot down Wednesday by rebels in the thick of intense fighting.
The attack came on the heels of an air strike on a suburb of the Syrian capital of Damascus that reportedly killed at least 20 people and left a dozen more buried under rubble.
"It's gone up in flames! Allahu Akbar (God is greatest)!" a person shouts in one of the videos, according to Agence France-Presse. "The (rebel) Free Syrian Army air defense battalions have hit a MiG warplane!"
Britain-based Syrian Observatory for Human Rights distributed video of the incident that shows what appears to be heavy machine-gun fire striking the plane, which then drops from the sky.
"The shelling and bombardment in Eastern Ghuta province on Wednesday was fierce," Observatory director Rami Abdel Rahman told AFP on Wednesday.
Another activist group, the Local Coordination Committees, put the death toll higher, saying up to 35 were killed and dozens more were wounded in the air strike.
Other videos posted online show several vehicles on fire as thick black smoke billows from a street. The videos also feature the bodies of two people, who were burned, in a pickup truck and a third person lying on the ground.
Damascus has largely been spared the violence that has left other cities in ruins, but in recent weeks, rebels who established footholds in the Damascus suburbs have clashed with government forces, moving from the east and south into the center of the capital.
Syrian rebels have been engaged in a civil war with government troops for nearly two years, leaving at least 70,000 dead, according to the United Nations.
On Tuesday, insurgents fired at one of the palaces of President Bashar Assad following their capture of several air bases days earlier.
(Visited 29 times, 1 visits today)