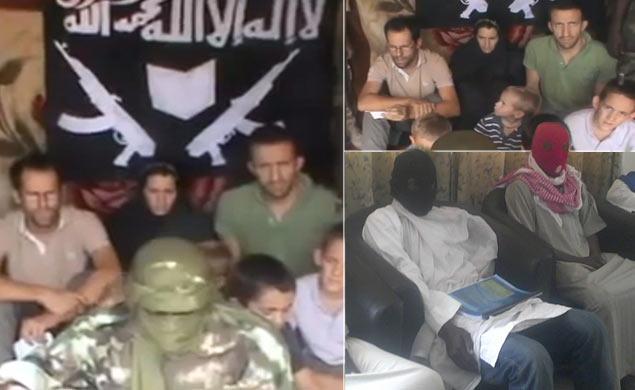 LAGOS, Nigeria — A video posted online Monday apparently shows seven French hostages kidnapped from northern Cameroon, with a masked militant claiming the radical Islamic group Boko Haram from neighboring Nigeria holds them.
The video, posted to YouTube and mentioned on a jihadist website, shows one of two French men reading a statement, with a woman in between them. Four children sit on the ground near them, flanked by two masked militants wearing camouflage uniforms and holding rifles.
A masked militant in front says in the video that Boko Haram kidnapped the French hostages, a family of three adults and four children who were taken from outside a national park in Cameroon's Far North Region on Feb. 19. A black banner in the background, bearing the images of the Quran flanked by two Kalashnikov assault rifles, also resembles a symbol previously used by Boko Haram.
The man says the kidnappings came due to the French military intervention in northern Mali, where its troops have fought with Malian soldiers against Islamic extremists who took over the north in the months following a coup last year. The man also threatens the Nigerian and Cameroonian government, calling on them to release their imprisoned members.
"Let the French president know that he has launched war against Islam and we are fighting him everywhere," the man says in Arabic. "Let him know that we are spread everywhere to save our brothers."
(Visited 24 times, 1 visits today)