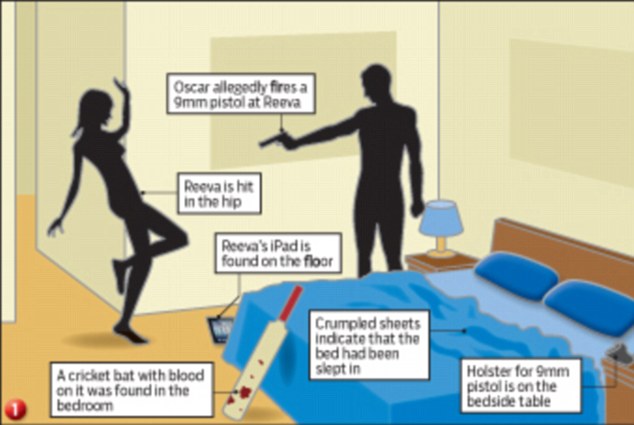 The family of slain model Reeva Steenkamp have begged Oscar Pistorius to 'tell the truth' about the shooting when he appears in court tomorrow – as they prepare to bury her 600 miles away.
The 29-year-old's family, who are holding her funeral in Port Elizabeth at the same time as the Blade Runner appears in court charged with murder, demanded to know why their 'beautiful angel' was blasted to death with his 9mm gun.
June Steenkamp, Reeva's mother said: 'All we want are answers … answers as to why this had to happen, why our beautiful daughter had to die like this?'
Police investigating the killing are focusing on Reeva's iPad amid concerns she received an early-hours message that may have sparked a row.
But the mystery of her final moments deepened after the tragedy was recreated in a controversial 'cartoon' strip in South Africa.
The bizarre images suggest the model was shot in the hip in Pistorius' bedroom before being attacked and seeking refuge in the bathroom, sitting on the toilet seat.
(Visited 104 times, 1 visits today)