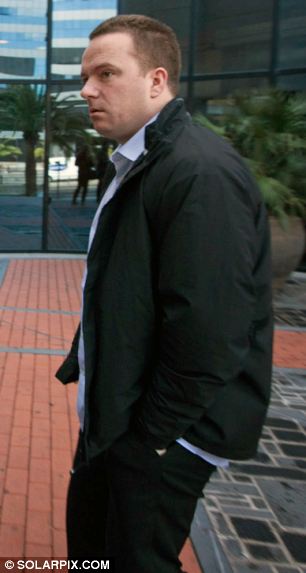 A British tourist told a court today of the chilling moment alleged Tenerife booze cruise killer Darren Sapstead admitted: 'I did it, he deserved it.'
Lucy Smethurst turned the clocks back nearly 17 years to November 1996 as she claimed the kitchen fitter confessed to pushing Garry Walton, 21, to his death after an afternoon's drinking games at high sea.
The apprentice builder, originally from Leeds, west Yorkshire, drowned after falling from the boat the trio were on in an incident originally written off by Spanish investigators as an accident.
Lucy, a 14-year-old girl at the time, told a jury in the Tenerife capital Santa Cruz  she was drunk and had her head on a table so did not see the moment Garry went overboard and just heard the commotion.
But she added: 'Darren made an unarranged visit with a friend to our hotel the following day and me and my sister went to eat something with them.
'I thought Garry had died by accident but the conversation between the four of us over the table was going along the lines that Darren did it.
'I was shocked to hear it because I didn't know what had really happened on board the boat.
'I remember very clearly saying to Darren, 'So you pushed him' and he said, 'Yes.'
'I then said, 'Do you feel guilty?' and he said, 'No, he deserved it.'
'Darren said at the time, 'Don't say anything'. We were scared, we felt intimidated and together we decided we wouldn't say anything.'
Father-of-two Sapstead, 38, from Woodham Ferrers near Chelmsford, Essex, is accused of Mr Walton's homicide and faces 12 years in jail if found guilty.
The long-awaited trial comes after a protracted campaign by Garry's parents Robert and Catherine to unlock the mystery of their son's death.
(Visited 26 times, 1 visits today)