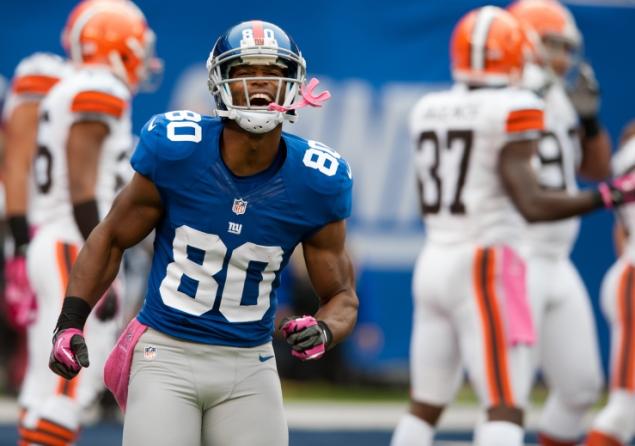 There has been so much emotion, so much panic lately over the idea that the Giants are playing a game of chicken with their second-most-popular player. Just the thought that they're letting Victor Cruz dangle in midair over a bunch of sharks ready to pounce is galling to their increasingly impatient fans.
The odds, though, are pretty good that Cruz is going nowhere. There may be a "risk," as Giants co-owner John Mara noted, to giving him a first-round restricted free agent tender, rather than signing him to a lucrative long-term contract. But it's a small one.
And it's a risk the Giants are absolutely right to take.
This has nothing to do with the Giants being cheap, or not wanting Cruz, or their lack of salary cap space. This is simply the Giants doing the right thing for their business, as the collective bargaining agreement allows. Cruz is still a year away from unrestricted free agency so they don't have to give him a mega-contract at the moment. They can buy time — as the $2.879 million tender did — until they have a better idea what his market value really is.
Right now, the two sides differ on that. According to several NFL sources, Cruz, before he changed agents last week, was looking to be paid like a No. 1 receiver. The market for that was set by Miami's five-year, $60 million deal with Mike Wallace — well over $10 million per year.
The Giants, according to team sources, don't view Cruz in that financial stratosphere, especially not when Hakeem Nicks — their true No. 1 receiver — and defensive end Jason Pierre-Paul are next in line for huge deals. The Giants still gave Cruz what Mara called a "significant" offer. But the Giants have long played by this simple rule: They set the market for their players.
And as Mara said, "if somebody's willing to pay more than we're willing to pay, then we'll have to say goodbye."
"You have to approach salary cap decisions in that manner," Mara said. "You can't worry about the player's popularity, because at the end of the day the fans want to win. They want you to build an organization that's going to be in contention every year, and if you overpay for players it's going to hurt you in other areas.
"He's been a great player for us. We'd love to have him back. But you have to place a value on these contracts, and we have."
Meanwhile, the "risk" in waiting is minimal because in recent years, NFL teams have redefined the "restricted" part of restricted free agents. Not a single one has gotten an offer sheet in the last two years and only one — running back Mike Bell, who went from the Saints to the Eagles — has gotten an offer since 2009. General Managers, it turns out, view their draft picks like gold.
First-round picks, meanwhile, are more like platinum. The last player tendered at a first-round level to get an offer sheet was receiver Laveranues Coles, who went from the Jets to the Redskins in 2003. The only other high-tendered player to ever get an offer sheet was Curtis Martin, who got the old first-and-third-round tender in 1998 and left New England for the Jets.
(Visited 16 times, 1 visits today)