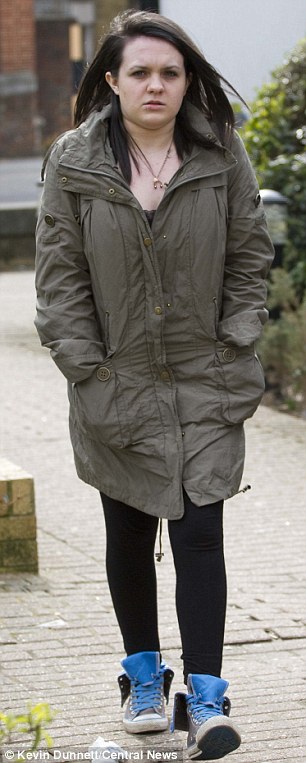 A schoolgirl who posed as a 'goth' boy called Scott for three-and-a-half years just to get another teenage girl into bed has been jailed for three years today.
Justine McNally, 18, duped her 16-year-old victim into believing she was male as they chatted online and carried on tricking her after they met by strapping a sex toy to her waist.
Glaswegian McNally, then 17, lured the London schoolgirl into three sex sessions, promising her they would get married and have children.
The girl was even fooled into thinking she had lost her virginity to McNally in a darkened bedroom of a family friend's house.
McNally's secret was only exposed as a young woman when a friend of her mother found a sex toy in her backpack.
She was sentenced at Wood Green Crown Court today after admitting six counts of sexual assault by penetration.
'Because of the abuse of trust, the trauma to the victim, and the peculiar circumstances, this is an extraordinary case', said prosecutor David Markham.
'This case is about the defendant, then aged 17, sexually assaulting the victim, then aged 16, by deceiving her into believing that she, the defendant, was a boy.
'She obtained consent to physical intimacy between them by fraud. The case involves a very serious abuse of trust.'
McNally was jailed today by Judge James Patrick for the 'selfish and callous' deception.
She and her victim started their relationship when aged 12 and 13 after meeting through an online videogame.
During their three-and-a-half-year time together the girls 'spoke about what they wanted to do to each other' sexually, said Mr Markham.
'Scott (McNally) spoke about what he wanted to do with his d***'.
They eventually met in March 2011, when McNally came to visit the girl in north London, staying with a friend of the family.
They had talked about having sex during online webchats on MSN and on video calls, and the relationship turned physical on the first visit.
But McNally refused to remove her clothes while sexually touching the girl, the court was told.
(Visited 26 times, 1 visits today)