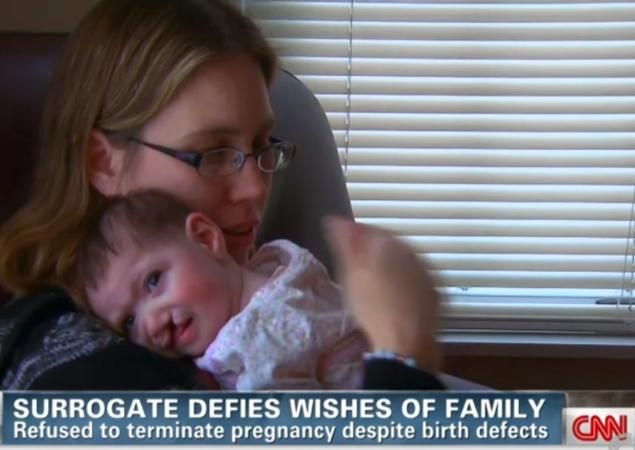 'She's still a happy little girl who's going to bring joy into the lives of everyone who knows her,' Crystal Kelley says of Baby S.
Crystal Kelley was five months pregnant when the Connecticut couple who hired her as their surrogate made an agonizing request: They'd pay her $10,000 if she aborted their baby.
An ultrasound a year ago revealed the girl would be born with special needs and would likely require numerous heart surgeries.
But Kelley, 29, decided to go against the parents' wishes and take the child in an unusual and complex case that has raised the question about what is legally — and ethically — expected in surrogacy agreements.
Kelley, a single, unemployed mother, told CNN that she would have the abortion if the couple, who was not identified, would pay her more. She was also getting $22,000 to carry the child.
"In a weak moment I asked (the surrogacy agency) to tell them that for $15,000 I would consider going forward with the termination," she said.
A woman with the agency had "painted a picture of a life of a person who had a child with special needs," Kelley said.
"She told me how it would be painful, it would be taxing, it would be strenuous and stressful," Kelly added. "She told me it would financially drain me, that my children would suffer because of it."
(Visited 37 times, 1 visits today)