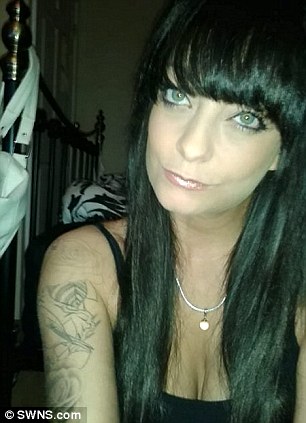 A grieving mother claims her pregnant daughter accidentally killed herself in a 'moment of madness' after her boyfriend ended their relationship because she refused to have an abortion.

Cassie Turton from King's Lynn, Norfolk, took an overdose of over-the-counter medicine hours after partner, Michael Fysh, finished their seven-month romance.
The 26-year-old restaurant supervisor wanted to start a family, despite suffering from Marfan syndrome, a genetic condition that increases risks during pregnancy.
After telling her partner she wanted to keep the baby, she slashed her wrists and then sent images of what she had done to his phone in a cry for help.
Mr Fysh, 27, raised the alarm by forwarding the pictures to Miss Turton's mother, Sandra Hammond-Grant, who immediately rushed to her flat to find her being helped by a neighbour.
She said Mr Fysh, who has two children from another relationship, evantually turned up, but started a vicious argument with her daughter and stormed off.

Her condition then got worse and Mrs Hammond-Grant was forced to drive her to hospital after an ambulance failed to turn for 40 minutes after they called 999.

Tragically, Miss Turton died hours later, on Valentine's Day, in Papworth Hospital, Cambridge. A post mortem concluded the cause of death was an overdose.
(Visited 70 times, 1 visits today)